Why Responsive?

Responsive web design is defined as an approach to designing websites that remain constant across different devices used. Using responsive design is something you should consider if you are looking to improve your customer's online experience. Whether you are building a website for your business or looking to improve an existing one, here are 10 ways in which responsive web design is critical to your customer experience READ THE REST
Are you "responsive" to Google's new standard?
Starting April 21st, Google will begin favoring responsive sites over ones that require 'pinch & zoom' to use on mobile. Google's mobile ranking factors will not only label your site as mobile-friendly, but will also use that to determine if your site should rank higher in the search results. Google said this algorithmic change will have a "significant impact" in the mobile search results, impacting all languages worldwide.
Update to Google Rankings issue:
A Strong Focus on Mobile Friendliness
In recent years, search engines — and in particular Google — have told us over and over again that they care about the mobile compatibility of websites. It's not a big surprise since in many countries traffic from mobile devices has long eclipsed that of desktop computers.
By now, having a site that plays well with mobile devices has moved from "nice to have" to "imperative" and Google's search quality rating guidelines confirm that. If a page pops up in the search results is not properly usable on a mobile device, the guidelines specify that it automatically be set to the lowest rating!
That's right, your site will be judged as "fails to meet" user intent. While that may seem harsh at first glance, it completely makes sense in today's online environment.
We get this question a lot: "Why should I want to employ a responsive design for my site"? Most sites you currently visit on the web are old-school (some of them ours) that are designed to look good on most computer screens. Fixed-width usually (so everything doesn't all of a sudden go postal on super-huge screens) and heavily graphics-laden. Those were the days, huh? Didn't have to worry about cell phones or tablets or whether all those graphics are eating up your customers data limits.
Well, those days are now well behind us and the design world is coming around fast to the notion that, rather than create a pinching and zooming nightmare for your customers, or have to design different sites for different devices (try keeping up with THAT), the best solution is one that adapts the site's display to whatever device is accessing it.
Besides offering concrete, real-world advice about how to present your vision to as many people as possible on as many different devices that exist, we'll also try to keep you up-to-date on all aspects of what it means to do business on the web.
These days we are encouraging folks to opt for a Responsive design built on a WordPress platform. This enables you to make changes/edits yourself and be assured your site will adapt itself to whatever device on which it's being viewed.
A new Pew Internet poll finds that nearly two-thirds of American mobile phone users use their devices to go online. The survey includes a most telling figure: In the few short years since the iPhone launched, more than one-third of cell phone owners who use their phones to go online are using them as the main way they access the internet.
As the Pew results show, a growing number of people aren't just comfortable on the mobile internet. They're making their digital homes there.
You might still be wondering if responsive is worth the effort. Consider the view of your website visitor by viewing your website on the various mobile devices. This may will help you make your mind up pretty quickly. StudioPress offers a cool little tool to view your website across multiple devices.
You can find it at www.studiopress.com/responsive/. If you have a fixed width website and view it on their tool, there will be no question that responsive design offers a better user experience for mobile users.
Also, Here's a concise and thoughtful article from the good folks at WebSavvy laying out the pro's and con's, and another one from the good folks at CoffeeCup Software. Web Design Ledger also makes a very good argument for making the move to Responsive now.
How important is being mobile friendly?
With the proliferation of mobile devices, it's no surprise that many people do most of their web browsing on the go. Consider the following eye-opening statistics found on visual.ly:
Mobile search queries have grown five times in the past two years.
Nine out of 10 mobile phone searches result in a purchase or visit.
Three out of every five searches are conducted on a mobile device.
99% of Smartphone owners use their mobile browsers at least once a day.
52% of all local searches are conducted on a mobile device.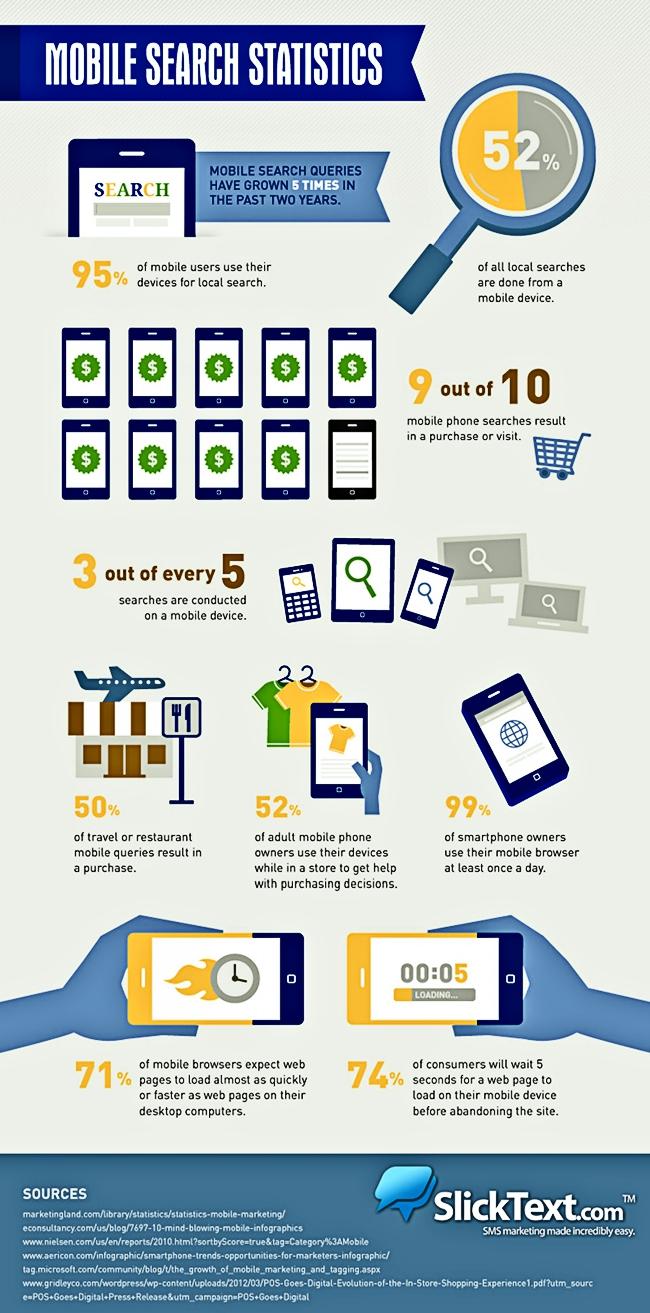 More Design Info:
Adopting the lingo of the old newspaper days, we say that something is 'above the fold' in the digital age if you can see it when a webpage loads without scrolling. Conventional wisdom in web design says that if something important is below the fold, it's less likely to be seen, which is why you see so many top-heavy website designs out there, with a million pieces of content crammed in the first few hundred pixels.
For international design firm Huge Inc., "above the fold" design thinking is a huge pet peeve. In our own glossary of designer jargon, they told us that they "disliked" the term, because "although first impressions are very important, users will inevitably scroll down a page to see the remainder of the content."  READ THE REST